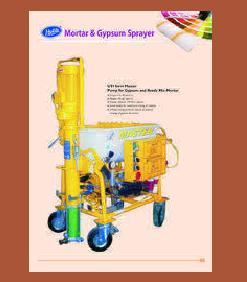 Gypsum Plaster Spray Machine
Product Description
Our company is reckoned entity in the industry for manufacturing an advanced stock of Gypsum Plaster Spray Machine. These machines are offered to clients in different technical specifications and models to choose from. We make use of only certified grade raw materials and components for manufacturing these spray machines. Widely used for spraying gypsum plaster on the walls, the machine is high in demand in the construction industries. We are offering this Gypsum Plaster Spray Machine to our clients at the economical prices.
Features
Excellent spraying
Portable in nature
Energy efficient
Salient Features:
•Three phase mixing pump for interior and exterior coatings (gypsum, mortar, render)
Simple and robust.
Can be filled with premixed material from bags or from silos.
Horizontal material feeding, avoiding desagregation of materials.
The pump transports the mix through hoses to the spray gun, where with help of compressed air, the material is sprayed on the surface.
Cylindrical mixing tube with "guillotine" closing system.
•Special designed electric box with automatic shut off system for pump and compressor.
Holders for accessories and tools.
•In case of loss of water pressure the machine is switched off automatically.
Sealed electric box to avoid damage by dust or water.
•The correct turning direction is guaranteed by a two direction switch on the electric board.
Perfect water dosification and regulation with flow meter to guarantee continuous mix.
For special applications the machine can be equipped with a cable remote control.
Advantages:

Easy to use due to ergonomic design.
•Easy to clean and maintain.
•For easy transportation between floors on site the machine can be taken to parts within minutes.
Big toolbox for tools.
•Machine with 4 wheels for easy transport on site.
Low filling height.
Serial Equipment:

Automatic shut off system.
•Compressor 250 l/min.
Water Pump.
•Tool and Cleaning Kit.
•Spray Gun.
•Mixing shaft.
•Warranty Certificate.
•CE Certificate.
•Parts book and manual.
•Tool Kit (spanners).
Recommended Equipment:

Stator / Rotor.
10 m mortar hose Dn 25 mm.
10 m air hose 3/8".
5 m water hose 3/4" + suction valve.
25 m electric cable 5x2'5 mm2
Technical Specifications:
| | |
| --- | --- |
| Output | 5 to45 l/min* |
| Pumping distance | Approx. 40 m* |
| Pumping height | Approx. 20 m* |
| Working pressure | 30 bar max |
| Power main motor | 5,5 kw |
| Power feeding motor | 1,1 kw |
| Air compressor | 250 l/min - 5 bar - 0,9 kw |
| Nec. water pressure | 3 bars |
| Power connection (5x2,5mm2) | 400 V - 50 Hz 3 P+N+T 32A/6h |
| Dimensions LxAxH (mm) | 1.420 x 660 x 1.540 |
| Filling height | 1.010 mm |
| Hopper capacity | 130 l approx. |
| Weight without compressor | 170 kg |